During your driving test you may see the examiner writing down things on their marking sheet (officially known as the DL25), for candidates taking their test they may think:
"Oh no, the examiner has given me a fault already and I have not even left the test centre!" or "They are writing just to put me off"
Have you consider the examiner may not be writing down faults?
Here is a link to what they DL25 or marking sheet, looks like: DL25 Marking Sheet
During your test the examiner needs to fill out certain sections on the DL25 for internal/office use, these sections often have nothing to do with any faults made with your driving, you could be driving brilliantly!
Here is top section of the DL25, all of this section is filled in for internal/office use, most of the section is self-explanatory (for example "Candidate" and "Date"), other sections are less obvious and I explain them further below. Most of this section is filled out before you meet the examiner, but some sections are filled out when the examiner gets into the car or when you are driving around. As well as possibly filling out the below sections when driving around I have noticed the examiner often writes down notes to themselves at the very top of the DL25, for example the exact time you left the test centre or how many times they asked you to stop at the side of the road.

"S" - Completed if taking a driving school car on test
"D/C" - Completed if the car taken for test has dual controls fitted
"Dr./No." - Driving Licence Number, certain parts of your licence number will be completed here
"Cat. Type" - This is the category of the vehicle you are taking, a car will be "B"
"Auto" - Completed if you are taking the test in a car with automatic transmission
"Ext" - Completed if you are taking an extended test, often required for people who pass the test and then 'lose' their licence through dangerous / illegal driving
A code is entered for the vehicle category / type, for a test in a car box "2" would be ticked
"V" - A visiting examiner is taking the test, i.e. one that normally operates from another test centre. "C" - If a short notice change of examiner (for example if the orginal examiner due to take you out was sick)
"Instructor Reg" - Registration number of your driving instructor
"Instructor Cert" - Certificate number of your driving instructor
To be completed if someone sits in the back of your test
"Sup" - If a supervising examiner sits in the back, which is done every now and then to ensure the examiner sat next to you is doing their job fairly and correctly

"ADI" - If your driving instructor sits in the back
"Int" - If an interpreter is sat in the back, for example if you're English is no good. However interpreters are no longer allowed on UK driving tests
"Other" - Anyone else sat in the back that does not fall into the above categories, perhaps if you had your Mum or Dad sat in the back
During your test the examiner needs to mark when you have done certain exercises, for example a reversing manouvre, below is such an example.

This means you performed a reverse park on the road ("R" meaning road, "C" meaning car park), i.e. a parallel park, because nothing is marked next to "Control" and "Obs." the examiner thought it was a good parallel park and no faults were given. If you do get a fault this will be marked next to "Control" or "Obs".
At the end of the test there are more boxes for the examiner to fill out, again not necessarily due to your driving!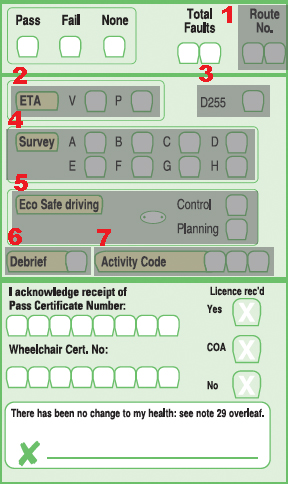 "Route No." - Route Number, there are planned routes that the examiner will take you on, here the examiner needs to write down which route number they took you on!
"ETA" - Examiner Took Action. "V" - Verbal, "P" - Physical". This could be if the examiner had to tell you to do something, such as proceed at a green traffic light, or had to physically intervene to prevent a collision, for example using the dual controls. Typically if this box is ticked you will also get a serious or dangerous fault and fail the test.
"D255" - Completed if you fail the eyesight test at the beginning and the test does not go ahead or if a 'special needs test'
"Survey" - What each code is seems to be quite hard to find out, must be top secret! However I believe "H" means an 'angled start' (i.e. moving off from behind a parked car) was conducted on test.
"Eco Safe Driving" - This section is completed to bring up any concerns about how environmentally friendly your driving style is, this DOES NOT effect the result of your test, it is just advice from the examiner. "Control" may be things like not using gear 5 when it was safe/appropriate to do so. "Planning" may be coming into hazards too fast meaning you have to brake hard and stop, rather than braking early into a hazard to get a smooth approach and don't have to come to a full stop, keeping the car rolling. More fuel is use to get the car moving off from stationary than getting the car moving from a slow roll.
"Debrief" - If the examiner gives you a 'debrief' at the end of the test to explain how the drive went and what faults, if any, you picked up.
"Activity Code" - Again, the exact codes filled in here are not widely available, possibly top secret! But will not effect the result of your test, just for admin purposes.
So in summary the examiner could write around 20 things on the marking sheet and you could pass with 0 minors! All those 20 things were just filled out for admin purposes, not because you did anything wrong or because the examiner is trying to put you off!
The best advice to take from this blog is to ignore what the examiner is writing, let them do their job of filling out the paper work and giving you the directions, you concentrate on showing the examiner how well you can drive!